Goryonsan – Nampeidai
Course Menu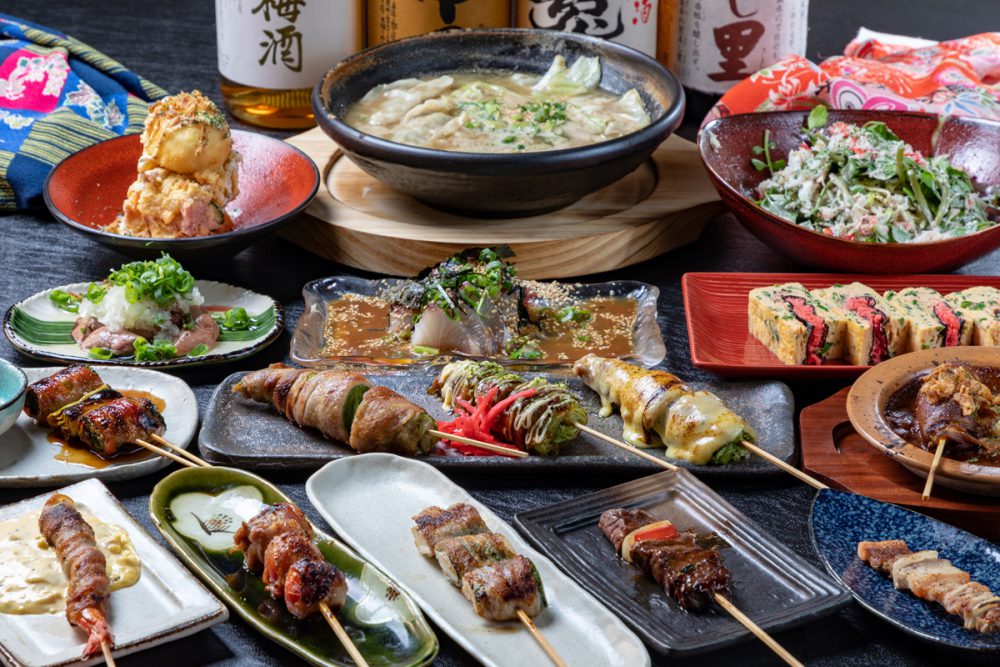 'Girls Party' Course with 2 hours All-You-Can-Drink (¥4,500)
4 Dishes of your choice from the Grand Menu and today's recommendations
5 Assorted Skewers (randomly chosen)
Specialty Dessert (Ice in Bread)
'Hakata Umakamon' Course with 2 hours All-You-Can-Drink (¥4,500)
Sesame Greater Amberjack
Rolled Omelet
Deep-Fried Japanese Yam
4 Assorted Skewers (2 Meats, 2 Vegetables)
Gyoza Boiled in Soup
Chanpon OR Dessert (Ice in Bread)
'Goryonsan' Course with 2 hours All-You-Can-Drink (¥5,000)
Sesame Greater Amberjack
Rolled Omelet
Deep-Fried Japanese Yam
Ajillo
5 Assorted Skewers (2 Meats, 3 Vegetables)
Gyoza Boiled in Soup
Chanpon OR Dessert (Ice in Bread)
'Motsunabe Hot Pot' Course with 2 hours All-You-Can-Drink (¥5,500)
Sesame Greater Amberjack
Rolled Omelet
Deep-Fried Japanese Yam
Ajillo
3 Assorted Skewers (1 Meat, 2 Vegetables)
Motsunabe Hot Pot (White Miso OR Chili OR Curry)
Rice OR Chanpon OR Dessert (Ice in Bread)
Notice Regarding Reservations
Reservations are taken on the website or by phone.
Feel free to order additional dishes a la carte.
To change or cancel a reservation, please contact us at least a day before the day of the reservation.
If a reservation is cancelled the same day as the reservation, you will have to pay for the whole price.
Please understand that some dishes might differ according to our supplies.