Teyandei – Shibuya
Course Menu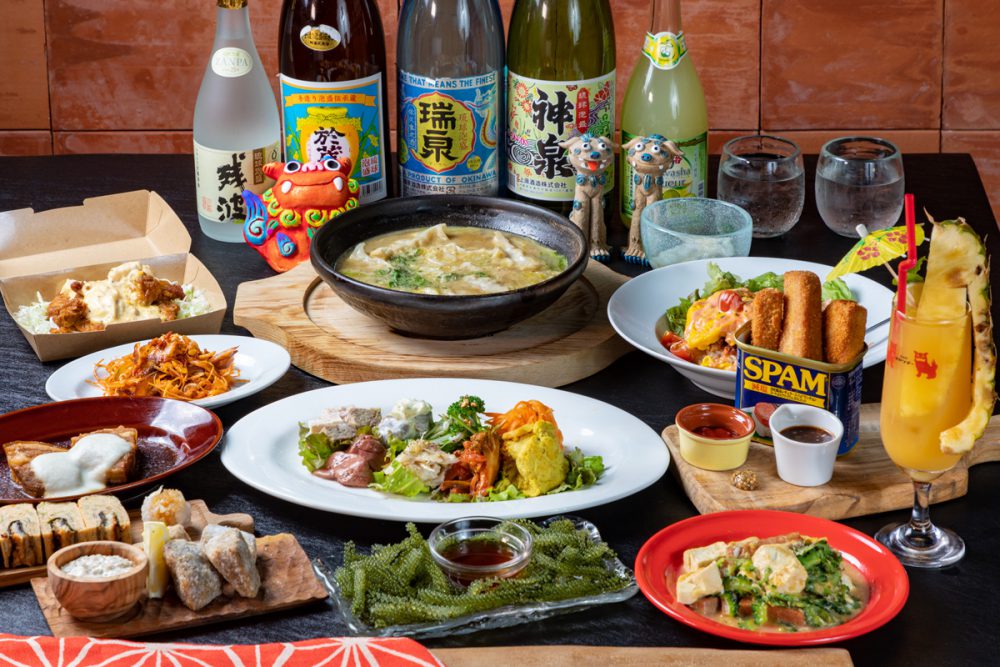 Teyandei Tasting Course: 2 hours all-you-can-drink (¥4,000)
3 types of Ryukyu Antipasto (Aosa Nori and eel omelet)
Homemade Jimami Tofu, 1 dish from the dishes of the day
Fresh Fish and Kumejima Miso and Sesame Sauce
Sea Grapes Carpaccio
Okinawan-style Fries with Thick Sauce
Goya Champuru (Stir-Fried Bittermelon with Meat)
Okinawan Deep-Fried Yam
Rice to end the meal or Ice in Bread
Teyandei Standard Course: 2 hours all-you-can-drink (¥4,500)
4 types of Ryukyu Antipasto (Aosa Nori and eel omelet)
Homemade Jimami Tofu
Fresh Fish and Kumejima Miso and Sesame Sauce
Sea Grapes Carpaccio
Okinawan-style Fries with Thick Sauce
Goya Champuru (Stir-Fried Bittermelon with Meat)
Gyoza Boiled in Okinawan Yanbar Chicken Bones Soup
1 Main Dish A La Carte
Okinawan Deep-Fried Yam
Okinawa Soba to end the meal
Extreme Ice in Bread
Teyandei Luxury Course: 2 hour sall-you-can-drink (¥5,000)
4 types of Ryukyu Antipasto (from the specials of the day)
Okinawan Beef Roast Carpaccio
Sea Grapes & Tuna Salad
Okinawan-style Fries
Okinawan Champuru to choose from the menu
Boiled Red Pork Gyoza
Island Soba with Chicken Bones Soup
Purple Sweet Potato Ice in Bread
Teyandei Winter Hot Pot Course
3 types of Ryukyu Antipasto
Sea Grapes & Tuna Salad
Okinawan Champuru to choose from the menu
Red Pork and Okinawan Beef Motsunabe (sauce to choose from white miso, red pepper, and curry)
Noodles or Rice to end the meal
Extreme Ice in Bread
Reservations are taken by phone only. 03-3462-6411
A la carte additional orders are welcome.
To change or cancel a reservation, please contact us at least a day before the day of the reservation.
If a reservation is cancelled the same day as the reservation, you will need to pay for the whole price.